Features
on
Monday, November 28, 2016 - 16:04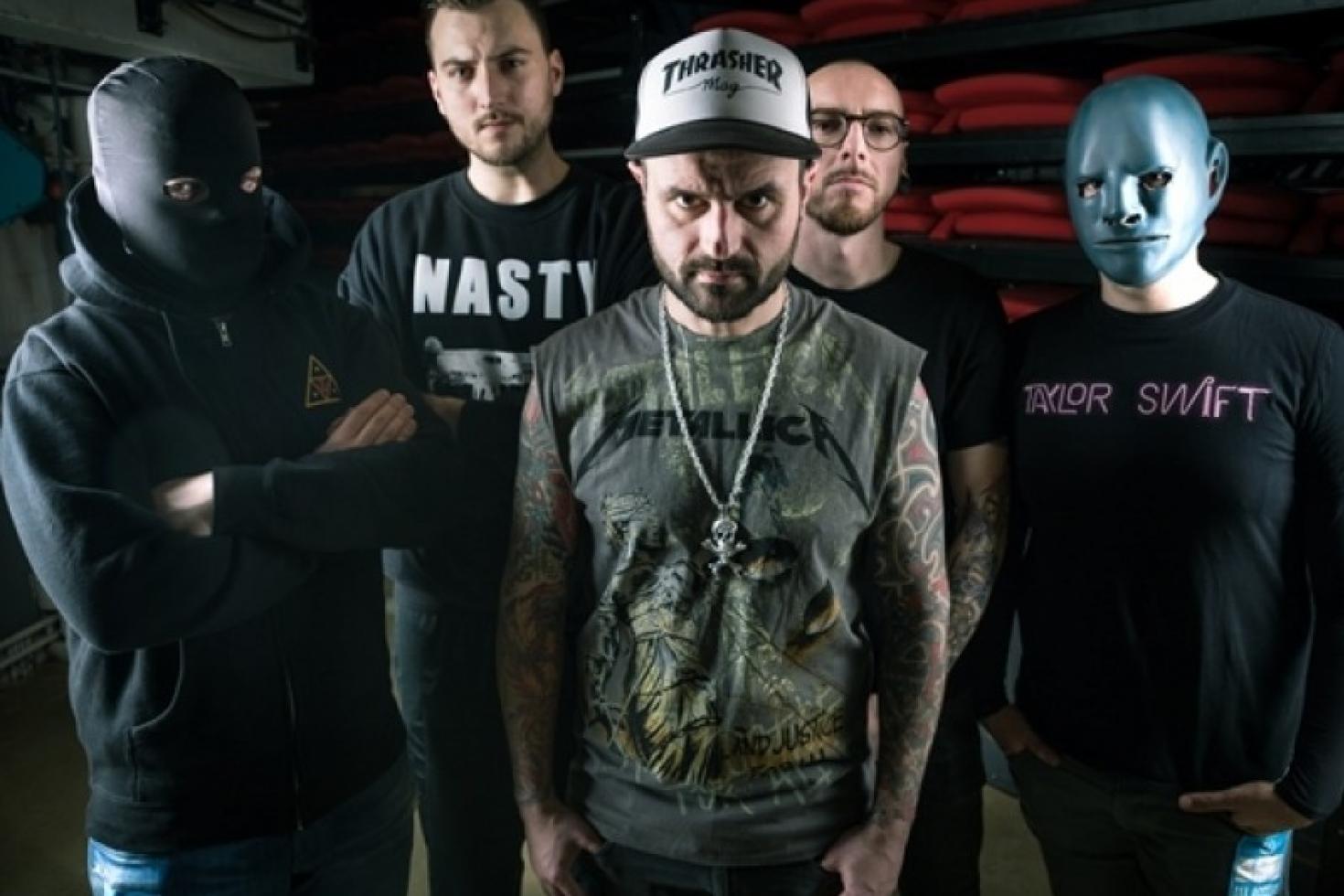 For a while now, something has been brewing in the seedy underbelly of Belgium. That something's name is Fleddy Melculy. After running into the ghost of Pantela's Dimebag Darrell, Fleddy was blessed with the gift of writing brutal breakdowns, Slayer-esque riffage, clichéd harmonizing guitars, double bass drum action straight from the pits of hell and lyrics that deal with the struggles of everyday life like losing your keys and idiots that wear Metallica shirts without ever having heard "Lulu". Then again, who has? Bad example. Anyway… following the release of their debut album, "Helgië", we caught up with vocalist Jeroen Camerlynck.
PRT: For the people out there who haven't heard you yet… if Fleddy Melculy was the lovechild, which bands would have had sex and which position were you conceived in?
Jeroen: Let's say a threesome between Biohazard, Slipknot and Urbanus and obviously in some kind of a doggystyle/human centipede position hahaha…
PRT: Imagine you're in a room filled with American A&R people. How would you pitch Fleddy Melculy to them?
Jeroen: Well, you better ask them because we just got the news from apple music that they want to release and feature our music over there! But anyway, I would say let the music speak for itself…which is hard for an American because all our lyrics are in Dutch ;)
I think the strength of Fleddy Melculy is that our music isn't far-fetched. We don't think too much about it and we just do what we like. No more, no less. And I think that reflects very much on our band, stage presence, artwork etc…
PRT: They would probably prefer to hear the songs in English, but I've read that – like Kvelertak – you would prefer to continue in your mother tongue. Understandable. Then again, nobody would get the jokes. Don't you want to put a smile on the rest of the world's face?
Jeroen: Then again, if you check out the artwork, the video's etc. Even if you don't understand one word, you know it's meant to be funny. We don't have immediate plans to tour outside Belgium and the Netherlands. South-Africa would be nice, but we'll see what happens. We have work enough at the moment :)
PRT: They say it's typical for Belgians to complain about things. Do you think there's any truth to that? It seems there are definitely plenty of things that piss you off.
Jeroen: Yes, Belgians are often grumpy motherfuckers :) But they are also very much more honest in opinions and stuff. It's really much harder to convince a Belgian than any other person in the world. Belgians are not easy-going, and don't take anything for granted.
Singing about shit that pisses me off isn't something new. Every band does that, but not every band sings about the most common shit in the world like when you are out of bread, cellphones, t-shirts of Metallica…Stuff people actually care about haha, And I think that's the reason why this works out so well.
PRT: Are there also things you actually like?
Jeroen: Yes, I really like IPA beers, tacos and boobies. You will never hear any negative words from me about those 3 subjects.
PRT: Speaking of complaining… have there already been a lot of people who don't get Fleddy Melculy? If so, what was the best negative thing your heard so far?
Jeroen: Yes, there will always be haters, but it's a minority. The stupidest thing we have ever heard about ourselves was a guy who wrote a rant on Twitter saying we are racists. I don't even know why someone can think or assume shit like that…
PRT: In one year you have released an EP, a full-length, played a ton of shows as well as bigass festivals. What's up next for you in 2017?
Jeroen: Except for releasing an EP and a full length, we'll do exact the same. And also I'm writing a new record!
PRT: And in 2037?
Jeroen: Well, I'll be 58 and hopefully I'll be as sexy as I am now. Hopefully I wouldn't need any viagra or diapers yet…I don't know…we'll see ;)
PRT: It's almost December, which means that the holidays are almost upon us. What are the chances of ever getting a Fleddy Melculy Christmas single?
Jeroen: Well, there is something special in the works, but I can 't talk about it yet…keep an eye on our Facebook, twitter etc
PRT: Apparently Freddy Mercury had ten cats and loved them so much, he used to call them while on tour. He even dedicated the song "Mr Bad Guy" to them. Who or what do you love so much, you would you dedicate a song to it/him/her?
Jeroen: I think Fleddy Melculy is too much of a humorous band to do something like that, BUT with another band (De Fanfaar) I already wrote songs for my wife and my 2 daughters. Even for my mother and father… yeah, I know… I don't want to sound cheesy, but actually Fleddy has a big sensitive side…