Features
on
Thursday, September 13, 2018 - 18:05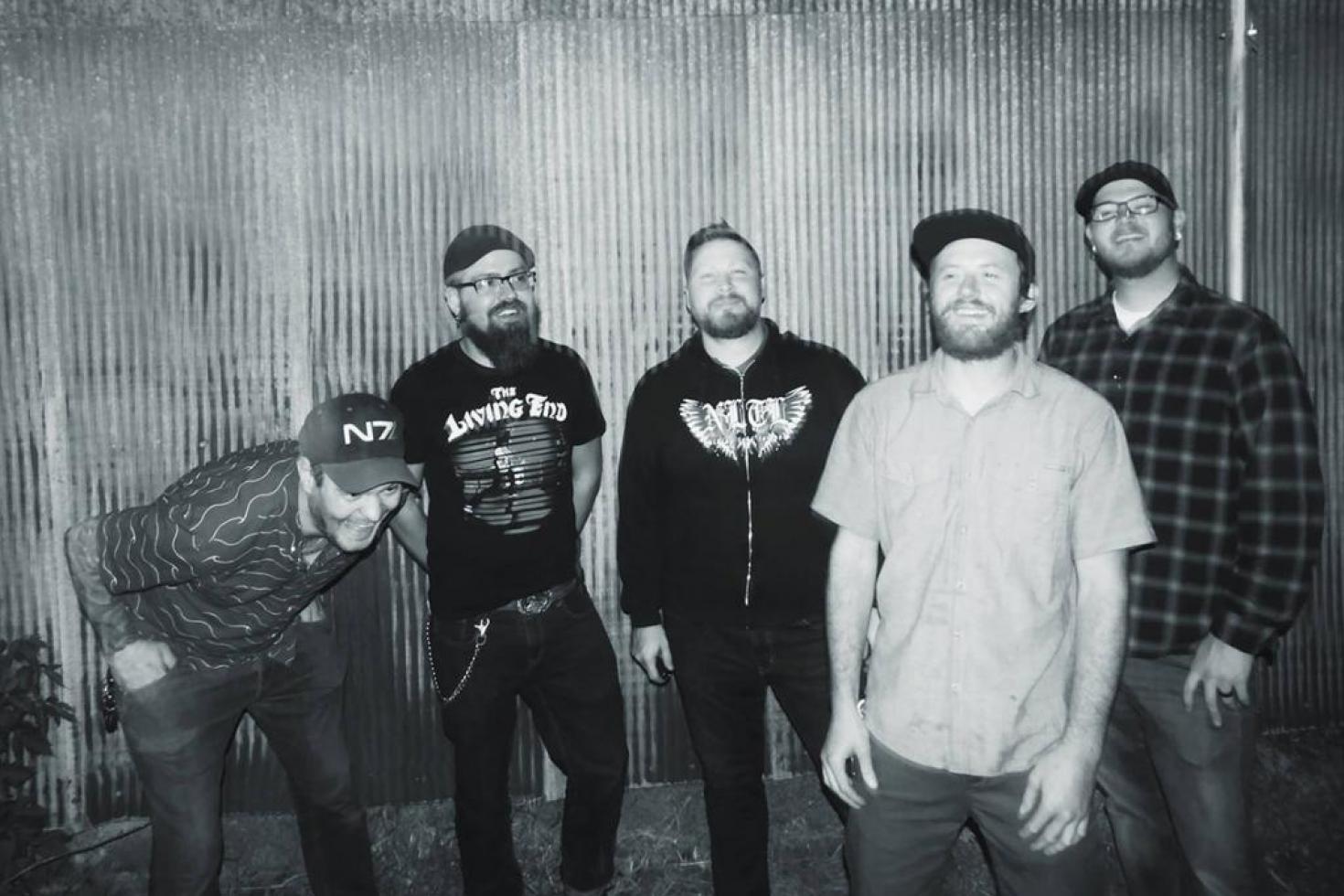 - by Steve Long
Springfield, MO's punk band The Midlife have announced the release of their first full-length album! According to their Bandcamp page, the new LP Hit The Deck is scheduled for a September 23 release. The album is the follow-up to their 2016 self-titled EP.  You can pre-order the album now on their Bandcamp page.
We recently had a chance to talk to the guys in the band to get the story about their band, their music and some other random nonsense.
PRT: When and how did The Midlife get together?
Adam: We started in 2014 after we all eventually moved back into the same city, Springfield, MO. Half the band had experience working together, toured together, and meshed well with writing for years. The other half were in between projects. We all knew each other pretty well aside from Steven (Bass) who was a fantastic addition to our workflow. I believe Aaron recommended him - and after one practice we felt the vibe was right.
PRT: What is the story behind the name?
Aaron/Adam: Really depends on who you ask. We're in our musical midlife and also in the traditional sense starting down the path of our 30's. With that – here we are starting families and still pursuing our passion of writing and performing music.
Ray Ray: Started as a joke, then all the other names we came up with were taken.
Adam: We also live in the Midwest, so, we're living that Midlife. (har har).
PRT: For those who have never heard your music, how would you describe it?
Ray Ray: Fast, heartfelt…
Adam: Agreed, heartfelt is a great way to describe these songs. We grew up listening to Good Riddance, Crux, A Wilhelm Scream, No Trigger…bands that really capture aggression and passion in a way that really is heartfelt. With a side of humor of course. You can never take yourself too seriously. No one is that serious. Well, except for Russ Rankin. I hear he is pretty serious.
PRT: What musicians got you all interested in playing music?
Adam: When I was younger I wanted to just write and play music in any form. I immersed myself with bands from all genres. It wasn't until I heard bands like Propagandhi, The Clash, and local punk acts in High school that I needed to adjust my approach. I saw my buddy's band (The Underdog Conspiracy) my freshman year in college and I've been in a constant cycle of writing, releasing, and touring behind this music ever since. There is something about punk (that word is grating) that has always maintained a place for me ever since 1999. Growing up and going to shows, supporting each other, fine tuning our craft, has enriched many of the bonds I still have to this day.
Aaron: For me, it was early on New Found Glory, The Movielife, Comeback Kid (Wade era), and Bane. I hope Bane does a reunion tour someday. Ray Ray: The Cathedral Quartet and Pre-2001 Tooth & Nail Records!
PRT: You are currently in the process of  recording your first full length. How is recording process going?
Aaron/Adam- It's been amazing, Nick knocked out drums like a champ, and Ray Ray has been adding so much flavor tracking his guitars…we should start calling him Bobby Flay. We have a few more sessions of guitar and bass then we head for vocals. We have been doing everything locally through Dan Chilton and Studio 2100. We'll be sending out some advance copies to some to folks to see if we can garner any interest from labels/distros.
PRT: How does The Midlife typically write material? Is it lyrics first then music or vice versa? Or a  completely different process?
Aaron: Usually Adam or Ray Ray bring in a song, we work it out as a band, adding and changing. Eventually I  add lyrics. Adam helps with lyrics - which has been awesome. Helping me focus on making all of my parts  better. He and I connect on a way I've never had before in the lyric arena and it's been really refreshing.
Ray Ray: I rip some tunes in my basement studio or Adam brings a jam to practice then magic happens between someone's brain and a pen. It comes together as we differentiate between what sounds alright and what sounds meh.
PRT: Are there any common lyrics themes you gravitate toward when writing lyrics or just write whatever  comes to mind at the time?
Adam: We try and keep it grounded in reality, although I was inspired to write 3 songs after being inspired by a  few Breaking Bad episodes. Honestly, we're just working class guys from a small Midwestern town. It sounds  like a stereotypical response, right? However there is something captivating in writing based on our ever-changing  life experiences. Common themes reflect our denial in getting older, family dynamics, solidarity in the  struggle of the 40 hour work week.
Aaron: For me…it just kind of happens. I may have a theme in mind, and sometimes I'll just have a chorus pop in my head and I'll write around it. All of my personal experiences…
PRT: Any touring plans once the album is done?
Adam: Short answer, yes. We'll book a lot of regional dates initially. Would like to hit some larger festivals this year.
PRT: What are some of your favorite cities and/or venues to play?
Ray Ray: I Love Lindberg's here in SGF, and Moon City was fun. The Riot Room in KC is great, as is San Loo in St. Louis.
Aaron: St. Louis in general. Amarillo Texas was awesome, Alma Arkansas was awesome at this tiny hole in the wall called Swad. The music hall in Fayetteville was where I grew up so that has to make the list. The Mustard  Tree in Claremore Oklahoma was amazing, Columbia Missouri always has good crowds and amazing people.
Adam: Chicago is always great. Winter in the South and North in the Summer. That's the way to roll.
PRT: What are some of your favorite bands that you have done shows with?
Steven: Agent Orange, Fat by the Gallon, On the Cinder
Adam: Better Days out of St. Louis is great.
PRT: Are there any bands that you haven't gotten to play shows with but would like to?
Steven: 88 Fingers Louie, Russian Girlfirends… Red City Radio
Ray Ray: The Living End, Tiger Army, No Trigger, MxPx.
PRT: This question is not music or band-related. What are your top 5 favorite movies and/or books?
Such a hard question with so much out there that we love. A quick list of things we've been reading, watching,  or listening to:
Get Out was great, most Cormac McCarthy novels, The Fifth Element, Run Ronnie Run, The  Wheel of Time, The Potter's Freedom, Covenantal Apologetics, The Darth Bane Trilogy, and Mass Effect  Ascension. We all vary in our interests and passions, but we all support each other.
Here are some links where you can find out more about The Midlife:
The Midlife on Facebook
The Midlife on Twitter
The Midlife on Instagram
The Midlife on Bandcamp