Features
on
Wednesday, March 28, 2018 - 15:20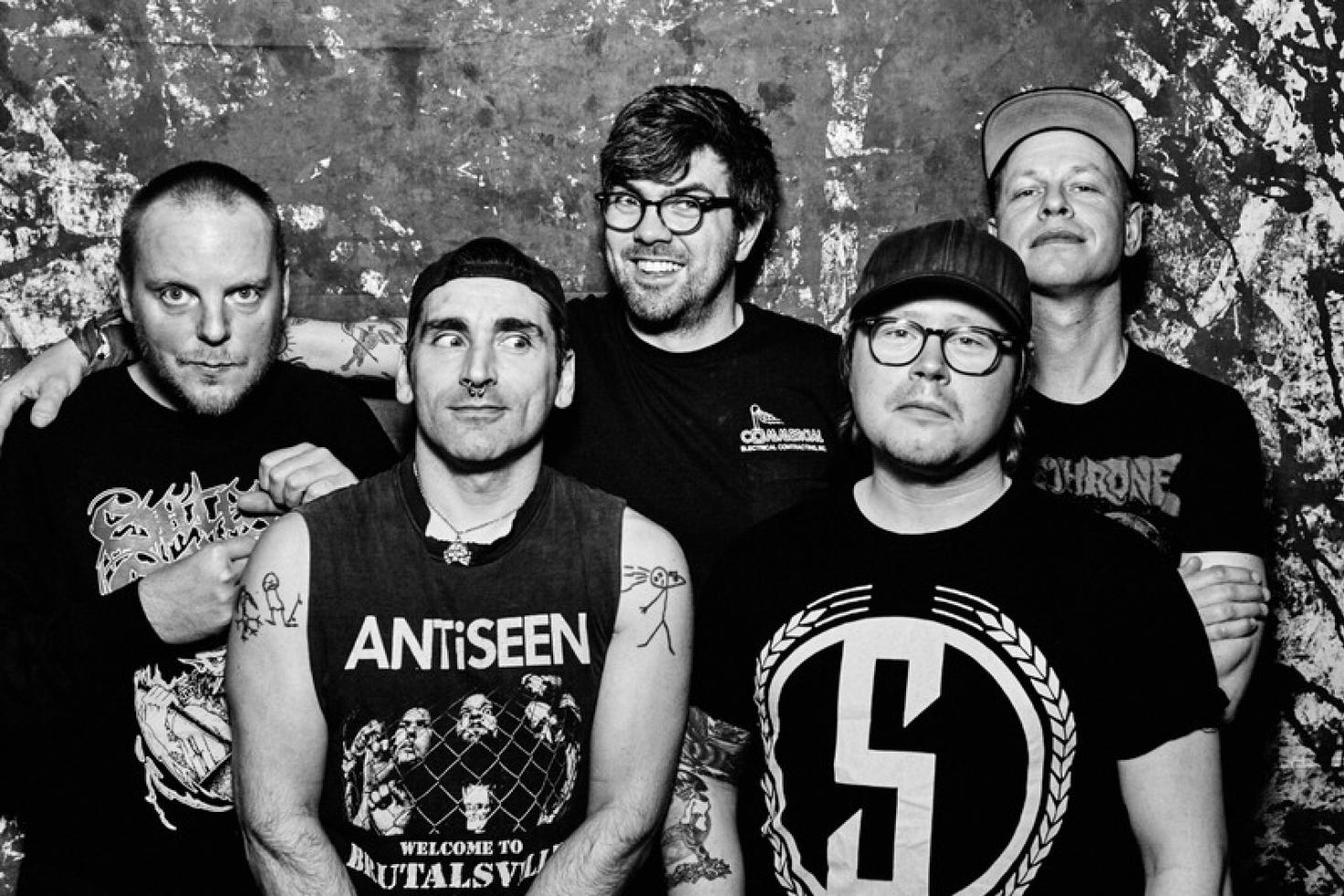 I remember back when I first heard about Satanic Surfers back in 1996. They had just released 'Hero Of Our Time' and the second I heard opening track '...And The Cheese Fell Down', I was sold! The Swedish skatepunk outfit kept on shredding for a couple more years before calling it a day in 2007. Three years ago they were back at it though, but we had to wait until now for new songs to break our neck to. 'Back From Hell', the band's first new album in 13 years, will be out April 13. But we already caught up with vocalist Rodrigo Alfaro and bassist Andy Dahlström to talk about about the new album and getting older.
PRT: First of all, congrats on the new album! Not really a question, but I heard that flattery gets you everywhere! What was it that you missed the most about not being in Satanic Surfers in the years that you were no longer a band?
Rodrigo: I can only speak for myself. But to be quite honest, I never thought we would do a reunion and even less so that we would reform the band and release a new album. Since I have been active in various other bands, both while we were still playing and after we called it quits in 2007, I never realized how much I had missed being in Satanic Surfers until we started playing again. It's just a very comfortable bunch of guys to hang out with and tour with. We enjoy each other's company and everything is very laid back.
Andy: I missed the joy of the melodic punk while Satanic was down. Sure, I had a lot of fun with the other bands, but there's something adolescent with "skatepunk" that just resonates with the boy in me.
PRT: You started playing shows again in 2015. How long did it take before you started writing new material?
Rodrigo: I actually started writing the new material very early on. Some of it even before we decided to do the reunion. It wasn't with the intention of using it for the Satanic Surfers. I was just writing songs and doing demos in my basement.
Andy: I think we struck the first chord of a new song already in the summer of 2015. And now, almost 3 years later, the album is out. Ha! It took hours and hours of practice to find the groove and punk! Ya gotta weld all those strokes together.
PRT: Did the writing just happen because you had things to say? Or was it more the idea that if you wanted to keep playing shows, you were going to need new material?
Rodrigo: These days I rarely write songs because I have "anything to say". My favorite part has always been writing the music. Lyrics are much harder for me and nowadays I mainly stick to writing about my personal life, about things I like doing, about people I dislike or whatever… After doing almost 2 years of reunion gigs etc, it got to a point where I personally felt that we should either consider doing something new or take a break. Everyone was into working on new material so I started showing the rest of the band the material I had.
PRT: 'Back From Hell' is your first new album since 2005. Did you feel a bit of pressure about your 'comeback album'?
Rodrigo: Hmm…not really… I think Satanic Surfers has always been a band developing from one album to the next. So I don't think anyone's expecting to hear "the same album" again.
Andy: I think we knew that it was an earnest try. We felt that recording a new album was just right. And when you have that feeling, all that pressure and nervous bullshit kind of disappears. I remember like a week before heading into the studio, we stopped and just looked at each other and were like "fuck, we're doing this!". So it was pretty natural actually.
PRT: The album comes with just nine songs, but there is a hell of a lot going on in those nine songs. Was it an easy album to write?
Rodrigo: Honestly, yes it was quite easy. I had a lot of inspiration while writing this material and I had quite a clear vision of how I wanted it to sound. Everything fell into place quite easily once we started jamming the riffs and songs. I assume that's the good thing about years of playing together as a band. I mean, even with the "new guys", Max and Stefan, we've been in bands together before so…
Andy: It took some time to interpret Rodrigo's visions but I think we came pretty close :)
PRT: Isn't it asking for problems releasing the album 13 years after the last one. I mean, 13 is the unlucky number. Or aren't you superstitious?
Rodrigo: Nahhh…not a superstitious person… That's why I also thought it would be fun to release the album on Friday the 13th as well….hahaha
Andy: You know The Waldorf Astoria Hotel doesn't have a 13th floor, but when you're riding their elevator, it takes longer between 12th and 14th floor than any other two floors. Creepy, huh!?
PRT: Dick question… we've all gotten older since 'Hero Of Our Time' came out in '96. Is playing as fast as you do more difficult twenty years down the line? ☺
Rodrigo: I don't think so. But I'm just singing in the band these days so…
Andy: Yeah man. My arm hurts from all the downstrokes and Stefan even went to a physiotherapist to check his shoulder. We're old as fuck.  But it doesn't matter cause the music takes you where you need to be. Is it 500mph, well, then that's what it'll be.
PRT: Are there things you would still like to achieve as a band that you didn't get round to before?
Rodrigo: Well, we did finally manage to make it to Chile and tour more of Latin America. Which was something we really wanted to do for a very long time. But in general, just touring places we haven't been to or just haven't been to in a very long time.
Andy: I wanna go to Australia so badly! And South East Asia. Never been there. And I wanna make weekend recordings, fast easy sessions and come out with one or two songs. Would be perfect for such a restless mind. And, of course, return to Chile!