Upcoming Releases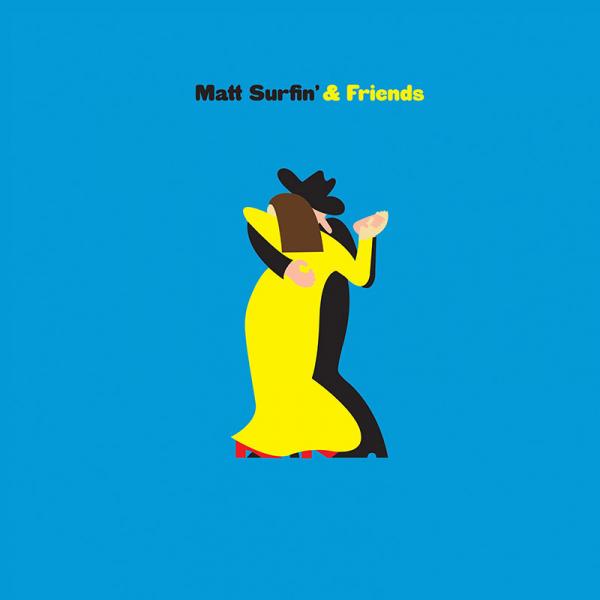 on
Saturday, March 23, 2019 - 07:29
Matt Surfin' & Friends have announced their self-titled LP out 5/17 on Community Records/Muscle Beach. The band also shared the tracks "Get Down" and "Loser". When talking about "Get Down", lead singer/songwriter Matt Seferian says,
"This song is a collaborative effort between Rui Gabriel and I. Rui came to me with the idea and we hammered out the song and lyrics together. Nick stoped by shortly after and helped solidify the idea/feel of the song. We convinced Rui to sing the verses in Portuguese. After a 4 hour period in witch we wrote and recorded the song it was done. It was a natural and fun collaborative experience. If I had to say what the song was about I would say it's about feeling out of place. It's normal to feel out of place and I think most people feel that way. This song is about that feeling and also acknowledging those feelings."
For "Loser" he adds, "This song is about feeling like the loser no matter what. From feeling that way in personal relationships and in society to feeling inadequate as a musician. It's a song of "what if's" if that makes sense haha. The homies who killed it and are featured on this track are Juila Steiner, Nick Corson, Alex Skalany, Tyler Scurlock, and Hunter Keene. I can go into more detail of how it all went down recording wise if you want too. Juila is in ratboys, Nick is in video age/the convenience, Alex is in pope/ new holland, Tyler is sharks teeth, and hunter played in pudge and now lawn."
Matt Surfin' & Friends is the project of New Orleans musician, producer, and part-time pizza delivery guy Matt Seferian. Born in D.C. and raised in Houston, Seferian moved to New Orleans in 2011 and threw himself headlong into the city's famously robust music scene. Almost immediately, Seferian and his friends found themselves playing a vital role in the New Orleans DIY music scene, booking bands and throwing innumerable house shows, as well as touring nationally with the bands Donovan Wolfington and Pope.
"What I love about music is the act of creating with other people," says Seferian, "becoming intimate as friends, and the bond that forms between musicians. It's the best feeling in the world. I started this band because I wanted more of that. For me, it was all about celebrating my musical community and connecting with the people I love."
Seferian envisioned Matt Surfin' & Friends as a malleable collective, a sort of collaborative anti-band comprised of various members of the New Orleans music community that could change and take shape as needed. It would be a band for friends, by friends He began writing songs in earnest, and for each one he had specific musicians in mind. Seferian's fellow New Orleans pals appear on every song (along with a few folks from other cities), with more than a dozen musicians contributing, including members of Ratboys, Sharks' Teeth, Video Age, and Bent Denim. The self-titled record was recorded over a year by Seferian at his old warehouse studio and completed at The Palace. A true passion project, Seferian put everything he had into the self-titled record, and he brought out the best in his peers.
Just as Seferian put the finishing touches on the mixes, the record was almost lost for good when a break-in occurred at the studio. "It was unbelievable," says Seferian. "They took my computer, all my backups, everything. I was devastated." But Seferian is not the kind of person to get down for too long. After viewing security footage, he recognized the thief's shoes as belonging to a neighbor. Seferian and Saladis followed the neighbor to a stash house, where over $30k in purloined gear was stored. Within a few days, Seferian had his record back, and the whole experience just made the record even more meaningful to him.
"I wanted to make music that was full of gratitude," says Seferian, "to be an uplifting aspect in people's lives. Life is tough, but it's tougher for other people, you know? I got my problems, and I'm trying to figure shit out, but I'm not a sad person, and I don't want to be sad. I just want to make people feel good."
That generosity of spirit is all over Matt Surfin' & Friends. The songs crackle with a joy that feels almost palpable, an enthusiasm and delight that can only come from doing what you love with the people you love. It's a celebration, a record about facing problems headlong and refusing to give up. More than anything, Matt Surfin' & Friends is about community. The first track "Loser" sets the tone perfectly, with Seferian singing, "If you need me, just give me a call." It's a simple sentiment, but an earnest and heartfelt one, and there's no doubt Seferian truly means it. The song is about struggling with anxiety and self-doubt, and also a reminder that no one has to fight their battles alone.
"Life of Luxury (lol)" is an indie-rock ode to self-care, a plea from one friend to another to "treat yourself better."  The album's centerpiece "Waiting On You" is a true gem of a pop song. Featuring Ross Farbe and Ray Micarelli from the band Video Age (with Farbe on vocals), it's an infinitely catchy throwback to late 70s/early 80s pop-rock, with keyboards straight from a Cars song. Farbe tackles the melody with delight, a masterpiece of mutual accountability.
Though the music can sound breezy and light-hearted, Matt Surfin' & Friends not a slacker's record. It's about caring more, not caring less. It's about showcasing the best of one small musical community, about coming together to make something beautiful in face of worry and trouble and self-doubt.
As for the future of the band, Seferian wants to bring in people from all over the country. "The world is a terrible place right now," says Seferian. "But for my part, I'm going to do my work and try to fucking be joyful anyway. I know a lot people feel that way, and I want them to be a part of this project too.  I hope one day that my musical community of friends will stretch from coast to coast. You don't have to be New Orleans-based to play on a Matt Surfin' & Friends record. There are no rules when it comes to this group. It can be whatever it wants to be."
Track listing:
Loser
Bleep
Life Of Luxury (LOL)
Get Down
Jamz
Truth
Cooper In Love
Waiting On You
Vibrochamp
Goodbye Mikel
Summertime
Martian (Bonus Track)