Upcoming Releases
Until We're Each Someone Else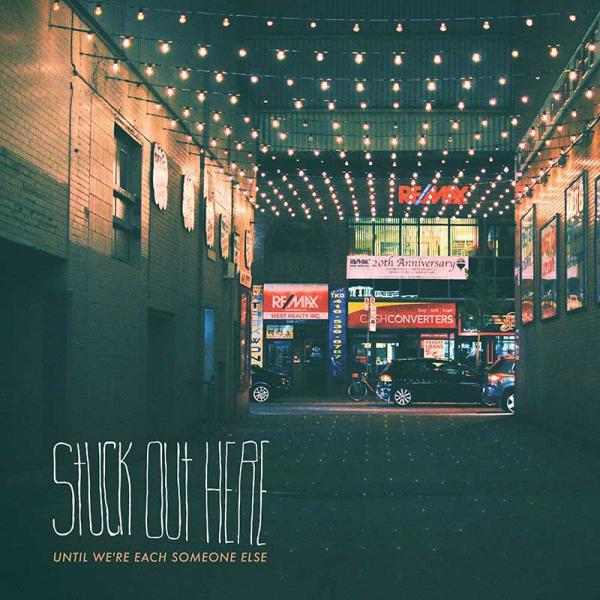 on
Wednesday, April 24, 2019 - 22:07
Canada's Stuck Out Here will be releasing 'Until We're Each Someone Else', the band's second full-length,  May 31 on Get Party! Records/Must Be Nice Records.
If you ask the members of Stuck Out Here –– which features co-frontmen/guitarists Cam Laurie and Ivan Raczycki, drummer Pat Armstrong, and Pkew Pkew Pkew's Emmett O'Reilly on bass –– they'd say they're not the best band in the world, but certainly not the worst.
What they leave out is where Until We're Each Someone Else shines the most. There's a uniquely-sentimental sort of angst that spans across the entire record and on perfect display in their latest single, "For You, For Me." It's a more laid-back feel than the album's first single, "Embarrass You," but they're both unquestionable anthems for the Fest generation.
'"For You, For Me" was written as an empathetic ode to my old partner who tried to console me after my dad had passed away, as imagined from her perspective," Racyzcki explains. "Though our love languages were in totally different dialects. she still stood by my side, even as I was frustratingly unconsolable. The love she gave in that trying moment is a testament to the strength and quality of her character and I wanted to reflect that."
Although Stuck Out Here officially formed in 2010, Cam, Ivan & Pat started playing together while still in high school as early as 2006, and Laurie and Raczycki had been circling one another for nearly their entire lives. They initially met as young kids playing soccer, but reconnected in high school covering Bright Eyes and Tegan & Sara songs at each others' high schools' coffee houses. Laurie had been getting into punk bands like The Clash while embracing the vulnerabilities and self-awareness of bands like the Weakerthans, while Raczycki was jumping into anything from the rough energy of Against Me! to the poetic soundscapes of The National.
The result of their unlikely inspirations became the blueprint for Stuck Out Here's 2011 debut, Last Night, This Morning and was crafted furthermore in 2014 with Getting Used to Feeling Like Shit.
Musically, their forthcoming release Until We're Each Someone Else exists somewhere amongst the pantheon of modern pop-punk classics like Joyce Manor's Never Hungover Again, Japandroids' Celebration Rock, and The Menzingers' On the Impossible Past, with the creeping influence and affectations of a young Conor Oberst or Paul Westerberg.
Until We're Each Someone Else marks an entirely new moment and opportunity for Stuck Out Here to finally bring their music and mentality across borders, but don't worry –– they'll never stop showing love for the 6ix.
"We've benefitted so much from the relationships we've made in punk communities in Toronto and across Ontario, and we try not to take that for granted. Supporting one another as bandmates and members of Toronto's artistic community has always been important to us. I mean, all my favourite bands are my friends and have been for years. We're excited and honoured to add our little voice to it," Laurie explains.
Drummer Pat Armstrong agrees: "Since starting out, we've been very lucky to be involved in such an inspiring community of punks. We've always been amazed by who we can convince to come play shows in our hometown, the community and events like Montreals' Pouzzafest develop into what they are, and all the amazing people we've met in between it all. It's instilled in us that it's most important to do what you like with the people you love as much as you possibly can, which is entirely why we keep this thing going."