Upcoming Releases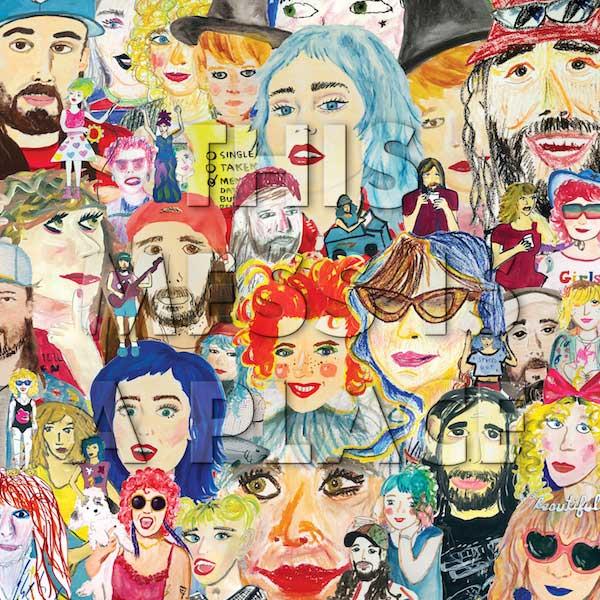 on
Thursday, February 14, 2019 - 19:11
Seattle band Tacocat are set to release This Mess Is a Place, their new full-length album on LP/CD/Digital and Cassette on Friday, May 3rd. The sparkly new album is their first for Sub Pop, and heralds a more pop-driven and ebullient direction in their sound. Today, the band are sharing new single & video "Grains of Salt," which features a variety of Seattle's finest drag performers.
Speaking about the new track, Tacocat lead singer Emily Nokes said "It's finally happening! We're beyond excited to show everyone "Grains of Salt"! We love all our song children, but this one might be our favorite ever...
The video is also super special! We were really lucky to get to work with some of our favorite Seattle performers and friends, not to mention an ace video team. Seattle is so talented it's ridiculous. (Shoutout to the giant glasses of room-temp blue milk that somehow never spilled a drop!)"
When Seattle band Tacocat—vocalist Emily Nokes, bassist Bree McKenna, guitarist Eric Randall, and drummer Lelah Maupin—first started in 2007, the world they were responding to was vastly different from the current Seattle scene of diverse voices they've helped foster. It was a world of house shows, booking DIY tours on MySpace, and writing funny, deliriously catchy feminist pop-punk songs when feminism was the quickest way to alienate yourself from the then-en vogue garage-rock bros. Their lyrical honesty, humor, and hit-making sensibilities have built the band a fiercely devoted fanbase over the years, one that has followed them from basements to dive bars to sold-out shows at the Showbox. Every step along the way has been a seamless progression—from silly songs about Tonya Harding and psychic cats to calling out catcallers and poking fun at entitled weekend-warrior tech jerks on their last two records on Hardly Art, 2014's NVM and 2016's Lost Time.
This Mess is a Place, Tacocat's fourth full-length and first on Sub Pop,finds the band waking up the morning after the 2016 election and figuring out how to respond to a new reality where evil isn't hiding under the surface at all—it's front and center, with new tragedies and civil rights assaults filling up the scroll of the newsfeed every day. "What a time to be barely alive," laments "Crystal Ball," a gem that examines the more intimate side of responding emotionally to the news cycle. How do you keep fighting when all you want to do is stay in bed all day? "Stupid computer stupor/Oh my kingdom for some better ads," Nokes sings, throwing in some classic Tacocat snark, "Truth spread so thin/It stops existing."
 
Despite current realities being depressing enough to make anyone want to crawl under the covers and sleep for a thousand years, Tacocat are doing what they've always done so well: mingling brightness, energy, and hope with political critique. This Mess is a Placeis charged with a hopefulness that stands in stark contrast to music that celebrates apathy, despair, and numbness. Tacocat feels it all and cares, a lot, whether they're singing odes to the magical connections we feel with our pets ("Little Friend"), imagining what a better earth might look like ("New World"), or trying to find humor in a wholly unfunny world ("The Joke of Life").
 
Throughout the album, Tacocat questions power structures and the way we interact with them, recalling the feminist sci-fi of Ursula K. Le Guin in pop-music form. "Rose-Colored Sky" examines the privilege of people who have been able to skate through life without ever experiencing systemic disadvantage: "For all the years spent/Hot lava shaping me/For all the arguments/I wonder who else would I be?" Nokes sings. "If I wasn't on the battleground/I bet I could've gone to space by now." "Hologram" reminds us to step outside ourselves and try to see beyond imaginary structures that trap us: "Just close your eyes and think about the Milky Way/Just remember if you can, power is a hologram."
 
The record is full of beautiful details, finding plastic beaded curtains catching light amidst feelings of despair. This Mess is A Placeexplores politics with more nuance than the topical songs of Tacocat's past, inviting listeners in for more complicated exchanges and leaving space for introspection. "Grains of Salt" finds the band at the best they've ever sounded: Maupin's spirited drums, McKenna's bouncy walking bass, Randall's catchy guitar and Nokes' soaring melody combine to create a bonafide roller-rink hit that reminds us that it just takes some time, we're in the middle of the ride, and to live for what matters to you. It's a delightfully cathartic moment and the cornerstone of the record when they exclaim: "Don't forget to remember who the fuck you are!"
 
Producer Erik Blood (who also produced Lost Time) brings the band into their full pop potential but still preserves what makes Tacocat so special: they're four friends who met as young punks and have grown together into a truly collaborative band. Says Nokes: "We can examine some hard stuff, make fun of some evil stuff, feel some soft feelings, feel some rage feelings, feel some bitter-ass feelings, sift through memories, feel wavy-existential, and still go get a banana daiquiri at the end."
Track listing:
Hologram
New World
Grains of Salt
The Joke of Life
Little Friend
Rose Colored Sky
Phantom
Crystal Ball
Meet Me at La Palma
Miles and Miles