Upcoming Releases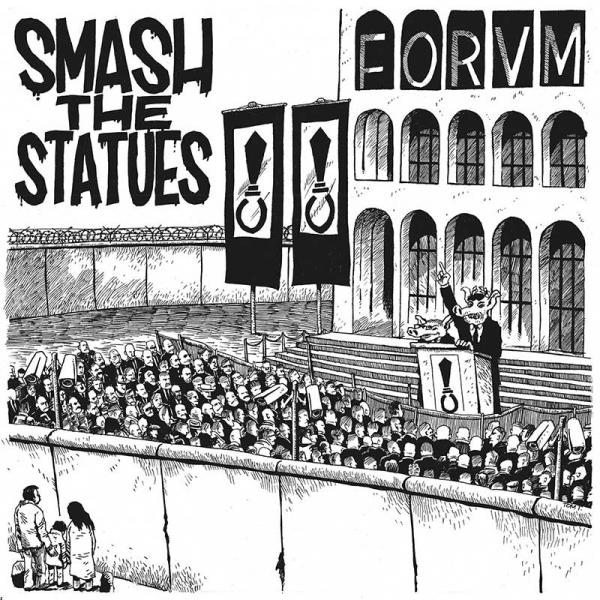 on
Tuesday, March 26, 2019 - 19:46
Smash The Statues have something to say on their new album FORVM, which will be out May 17 via White Russian Records. First single "Dvm Navis Praetoria Resvrrectionis ad Profiscendvm Parata est" kicks off the album and warns the listener for what's to come. The band posted the new single with an important message:
Country(wo)men beware!
 
Last Wednesday, the elections in The Netherlands were won by a political party called Forum voor Democratie. With their anti-establishment, yet elitist approach, they present themselves as a civilized alternative for the current political parties. But with their glorification of Owls of Minerva, The Renaissance and the smell of lavender, they also bring us Boreal winds to keep Europe white. Cause these fascists (not an insult, just a qualification) are openly racist, anti-feminist and totalitarian. They want to keep Europe white, purify education and journalism from leftist elements. With connections to well known alt-right/far-right/extreme-right persons and parties all over the white world and lesser known connections to fascist groups in The Netherlands, this is not an ordinary anti-establishment party, these are neo-fascists. And if we stop calling fascists what they are, then we're on a sliding scale and normalize what once was extreme.
 
Rewind to last December. Four old white men decided to write and record a new album. In a few weeks time we wrote and recorded our "Aanval op de nazistaat"*. We decided to call it "Forvm" and it was supposed to be a warning. The A side of the record deals with the current upcoming fascist parties, that always have Freedom or Democracy in their names. Apparently the elections caught up on us. So the B-side paints a picture of a dystopian world that might be not that far from here. Please let that be a warning, before it's too late again.
 
So a few days after the elections, we're not proud, but we feel obligated to share the first single of our upcoming album with you. "Dvm Navis Praetoria Ressurectionis ad Profiscendum parata est", or when the neo-fascists come sailing in. But remember countrymen (from all countries, races, genders) every boat can sink. It's just waiting for the right iceberg. So instead of telling you to enjoy our new single or record, we hope it will inspire you to resist fascism in all its ways. Punk = verzet. No pasaran. We'll be sinking your ship!
 
- Smash The Statues
 
* See what we did there Thierry?
Track listing:
Dvm Navis Praetoria Resvrrectionis ad Profiscendvm Parata est
Shores Of Europe
See The Ruse
Failed Intelligentsia
Forvm
The Eternal Nation
The Spectre
The Greyish Lines (There is no i in Life's Itinerary)
The Battery Cage
The End Of History